PLATE BURNING

WITH 3 BURN TABLES IN HOUSE WE
ARE READY TO HANDLE ALL OF YOUR PLATE PROCESSING NEEDS.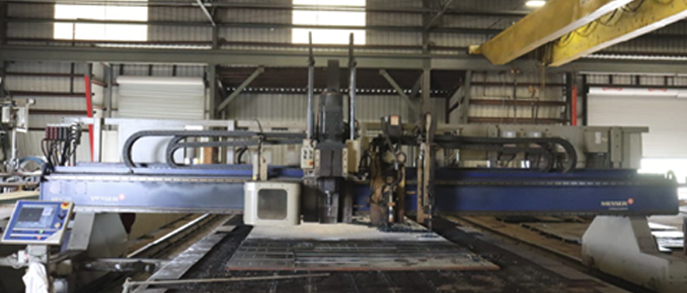 With up to 4 separate cutting processes including precision plasma, oxyfuel, drilling, and markers, our Messer model MPC2000 more than exceeds the industry standard and can handle extremely rigorous steel plate and drilling needs reliably with continuous production and precision to maximize operating efficiency.
Max Cutting Width 12′
Max Cutting Length 80′
Material thickness capacity: 26 ga. To 6″
Plasma
Oxyfuel
Hole drilling & slots
STRUCTURAL SHAPE PROCESSING

WITH 4 HIGH OUTPUT SAWS, MULTIPLE PROCESSING MACHINE CENTERS, COPING LINE, AND HIGH SPEED BEVELERS THERE IS NO JOB TOO BIG OR TOO SMALL TO HANDLE.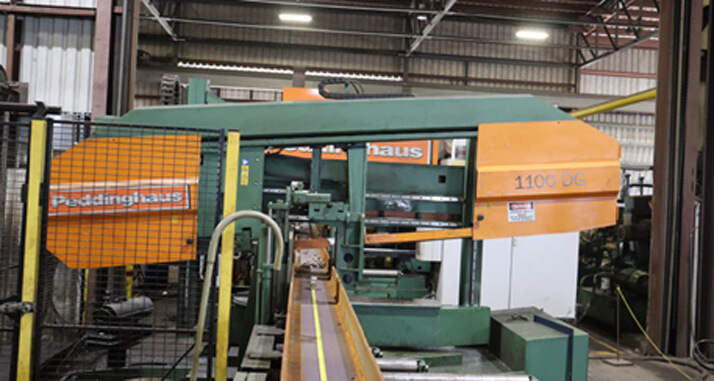 Peddinghaus PCD Beam Line Model #1100 DG-C
Peddingha
us
PCD Structural Steel Band Saw
Placed in tandem with our Peddinghaus PCD 1100A multi spindle drill line, the Peddinghaus PCD model 1100 DG structural steel band saw is built for speed and reliability to maximize steel processing efficiency.
The speed and versatility of our PCD 1100 DG band saw reduces cut times to a minimum and maximizes material production efficiency. Through the use of features such as the rapid advance blade approach, automatic cutting speed transition, end of cut sensing, automatic retract, and automatic material sensing, our PCD 1100 DG band saw is forged to adapt to any potential accuracy needs for the project you may have in mind.
By using hydraulic blade tensioning and laser line referencing, operator guesswork and error along with time lost are eliminated while the consistent blade tensioning of the hydraulic blade system works to minimize any additional costs by maximizing individual blade lifespan.
44″ wide x 20″ high opening
Full miter capacity: Saw pivots up to 60 degrees right and left.
3 degree blade attack angle powered by 10.2HP motor insures the fastest, most accurate saw times on the market.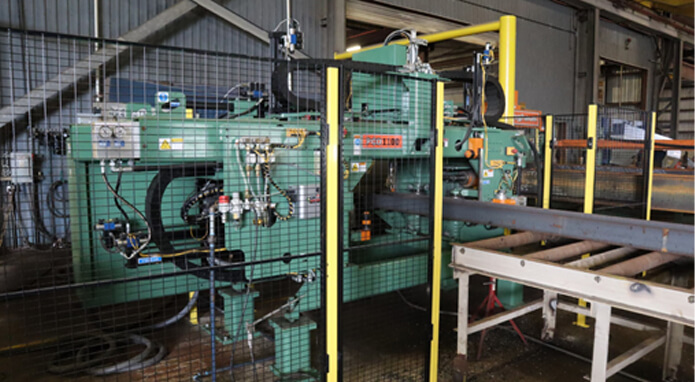 Peddinghaus PCD Beam Line Model #1100A
Equipped with three drill spindles each, the exceptionally swift and versatile drill power of the PCD 1100 allows for maximized material drilling efficiency by maintaining an elite quality level of drill holes and delivering consistent functionality & accuracy through automation. The accuracy of the PCD 1100's automation generates reduced labor output, and minimized machine run time.
PCD 1100A is armed with 4-axis drill hole layout markers that erase the need of any operator measurement and eliminates the possibility of human error.
Max Beam Width: 44"
Max Flange Height: 18"
Max Hole Size: 3"
Min Part Width: 3"
Min Part Thickness: 1/8"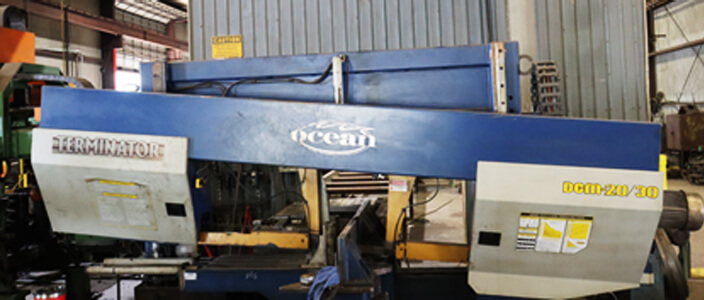 Ocean Terminator Model DCM-20/30 (saw)
The large sawing capacity of the Ocean Terminator DCM 20/30 band saw allows our fabricators to miter up to 45 degrees left and 60 degrees, significantly reducing handling time.
The Ocean Terminator's hydraulic blade tensioning feature applies large 2" wide blades with a large variety of blade speeds providing consistent blade tension allows our fabricators to maximize production efficiency by speeding up or slowing down material cutting based on the flow of production.
Dual vices provide material clamping to reduce vibrations on both sides of the blade to produce precise cuts & reduce potential error. speeding up or slowing down material cutting based on the flow of production.
The laser guide removes measuring errors on the fault of the operator and minimizes blade processing time to maximize production flow efficiency.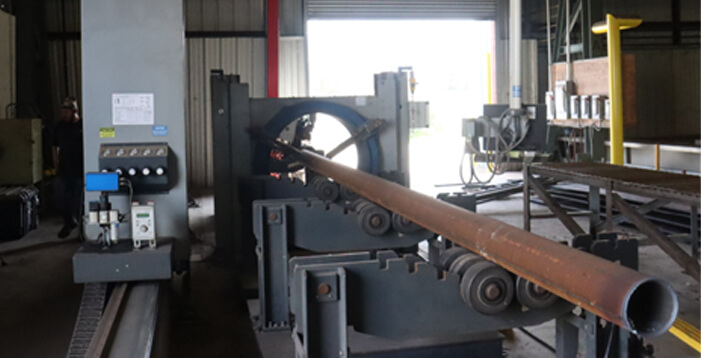 Mueller Opladen (pipe processing)
3D Thermal Cutting Pipe Coper General Specifications
Max pipe diameter: 48"
Max pipe weight: 13.23 Metric Tons
Oxy-fuel cutting system
Min/Max wall thickness: 2/5" to 6"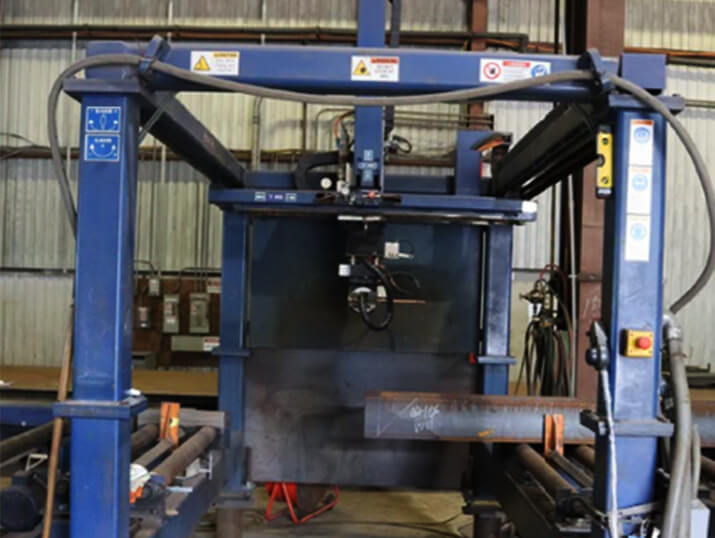 Ocean Liberator (beam coper)
The Ocean Liberator is an automated 5-axis CNC robotic oxy-fuel cutting material coper that allows our operators to make accurate and repeatable cuts from any angle on most forms of material (beams, angles, channels, plates, etc.) at up to 30 inches per minute.
Max Profile Size: 44″ x 24″
Max Plate Width: 48″
Flange Bevels: +/- 45 degrees
Web Bevels +/- 45 degrees
Max Material Thickness: 6″
Traverse Speed: 100-400 in/min
Cutting Speed: 7 – 30 in/min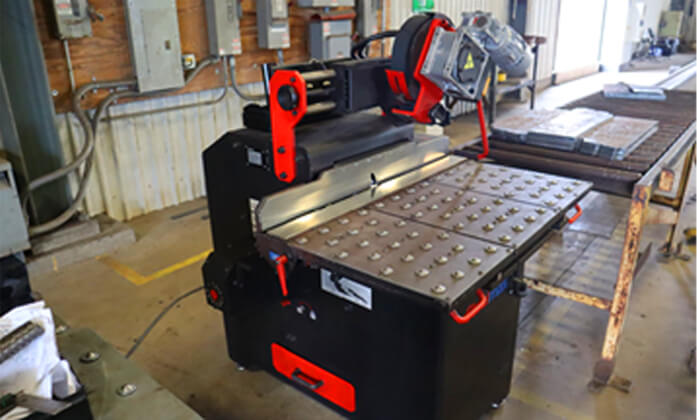 Steelmax Beveler Model SBM-500
SBM 500 incorporates a high-speed rotary milling head that manufactures clean, repeatable milled surfaces without heat affected zones or thermal distortion.
The consistent throughput and high versatility of the SBM-500 beveler allows King Fab operators to produce dependable bevels on a large variety of material at an incredibly expeditious rate, helping especially on projects where there is a plethora of plates or material need beveling.
Adjustable bevel angle from 15 to 60 degrees
Variable auto feed to bevel ferrous and non-ferrous materials.
Capacity to produce bevels up to 1-3/16″ wide on plate up to 4″ thick.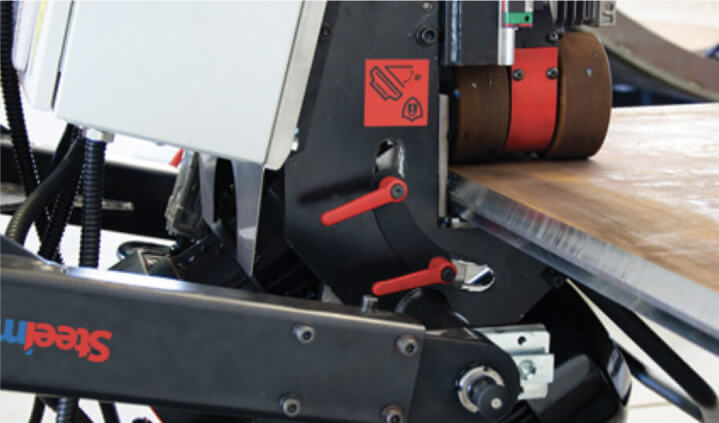 Steelmax Beveler ABM 50
The SteelMax ABM 50 mobile beveling machine generates precise, high quality single and double-sided bevels. The lightweight wheels attached to the bottom provide seamless mobility and allow for quick transportation around our 190,000 square foot facility. The mobility and high output factors of the ABM-50 prevent King Fab operators from having to take the extra step of moving material to a certain location, and works to minimize labor times.
The SteelMax ABM 50 adjustable bevel angle between 15 and 60 degrees and is capable of easily rotating to produce bevels up to 2" wide, so there is no need to take the extra time to flip plates or other materials.
Max Bevel Width: 2-5/8″ @ 15 degrees; 2″ @ 45 degrees
Bevel angle: 15 – 60 degrees
Self-feeding equals consistent bevel geometry from end to end of the plate.
Plate thickness range: 5/16″ – 3-1/8″
180-degree inversion allows for quick creation of double-sided bevels.
Portable; can be mobilized to other areas of the shop.